CM-001 Core Mould
Price: $119.00.
Available in diameters of .188", .219", .250", .281", .312", .340", .360", .390", .420", & .500".
A time tried "piston" design mould that is adjustable for the core weight. Aluminum body with steel inserts provides a faster heat up and cool down.
A bronze bushing pivot bearing on the sprue plate reduces wear and increases mould life. Mounts on the work bench or hold in a vise. Use a bottom draw ladle to fill the mould.
CC-001 Core Cutter

Price: $75.00
The only lead wire cutter you'll ever need. Cuts all sizes of wire from .125" up to .430". No loose dies to fool with. Adjustable for light to heavy cores.
BL-001 Bullet Maker's Lube
BL-002 Bullet Maker's Lube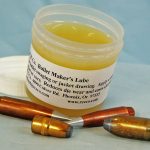 Price: $5.00 2 ounce jar
Price: $25.00 16 ounce bottle
A premium lube developed especially for bullet swaging. Also good for case resizing or for drawing copper tubing jackets. Made from all natural ingredients, hypo-allergenic, contains no sulfur or chlorine so will not harm copper, copper alloys, or brass alloys.
WH-001 Walnut Hill™ press


Price: $459.00

In continuous production since 1999 this is the finest swaging press available. The press has a short stroke for bullet swaging and by simply moving a pin in the press toggle it can be used for reloading standard cartridges or to do swaging tasks that require a longer stroke.
The Walnut Hill™ press cannot be used to reload the 50 BMG cartridge.
The swaging dies screw into the press ram while the external punch is held in the drawbar punch holder in the top of the press. The press top is threaded 1.5"-12 and comes with a bushing to 7/8"-14 thread. On the ram down travel the bullet is automatically ejected from the swaging die. Special punch holders are used when making tubing jackets or swaging bullets up to 2" in length. A standard punch holder comes with the press.
WH-002 Extra Punch Holder

Price: $45.00
Walnut Hill standard punch holder.  One punch holder comes with the press but often extras are wanted.  The punch holder comes with the drawbar and split lockring.
WH-007 Reloading Adapter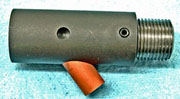 Price: $45.00
Walnut Hill reloading adapter.  Use the press in the long stroke mode with the adapter to reload standard rifle and pistol ammo.  The Walnut Hill press cannot be used to reload 50 BMG or similar cartridges.
Price: $25.00
Replacement handle for the Walnut Hill press.  Standard handle with cushion grip and locknut.
Price: $45.00
A special handle for the Walnut Hill press.  The Power Handle is longer than the standard handle.  It has two bends so that when the press ram is nearly all of the way up the handle will be about parallel to the floor.  The extra length and special shape of the handle increases leverage about 30% making difficult jobs easier.  Especially good when forming copper tubing jackets or when swaging really large bullets like those for the 700 Nitro.  It is not recommended or needed for normal swaging tasks.
WH-005 Tubing Punch Holder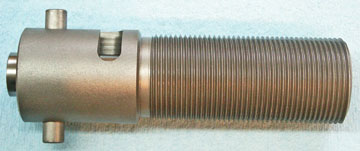 Price: $79.00
Special punch holder used when making copper tubing jackets. The punch holder makes the work faster and easier by adding one inch of stroke to the press without modifying the press toggle. The holder is threaded 1.5"-12 and is hardened & tempered for long life. It is not needed for most swaging tasks.
LW-001 Lead Wire
Price: $80.00 per 25 pound spool. Temporary price reduction! $60.00 per 25 Lb. spool.
Pure virgin lead wire. Not reclaimed scrap or reprocessed bits and pieces. This is 99.99% pure lead. Excellent for bullet swaging. Twenty-five pound spool is 175,000 grains.  Stocked sizes are .188″, .219″, .250″, .281″, 312″, .360″, .390″, .420″, & .500″.